It was a proud moment last night when I won the 2015 BIPP Documentary Wedding Photographer of the Year for the Yorkshire Region. Even better was winning the overall People's Choice Award from all the entries from the night. There was a vast array of styles of photography in the competition so winning the People's Choice really did feel good.
As soon as I saw the back of the camera during Joy & Nik's wedding I knew I had something special, it was the perfect moment and I was so lucky to be stood there when it happened. An exact set of circumstances had to come together for this to happen, the position and angle of the sun, the parting of the clouds, the timing of the ceremony, the fact that some candles blew out just before the ceremony started and of course Joy & Nik stood in just the right place. I played my own small part, moving forward in the Church to make sure I got the composition I wanted. Normally I am very aware not to move around too much in the Church, but for this it was certainly a risk worth taking.
I must really thank Stewart and the team at Folio Albums for making the print for me. It was printed in the exact same way and on the exact same paper as my wedding albums, so if you order your album from me you know you are getting the best industry award winning level of prints. That is something you just can't get down on the high street!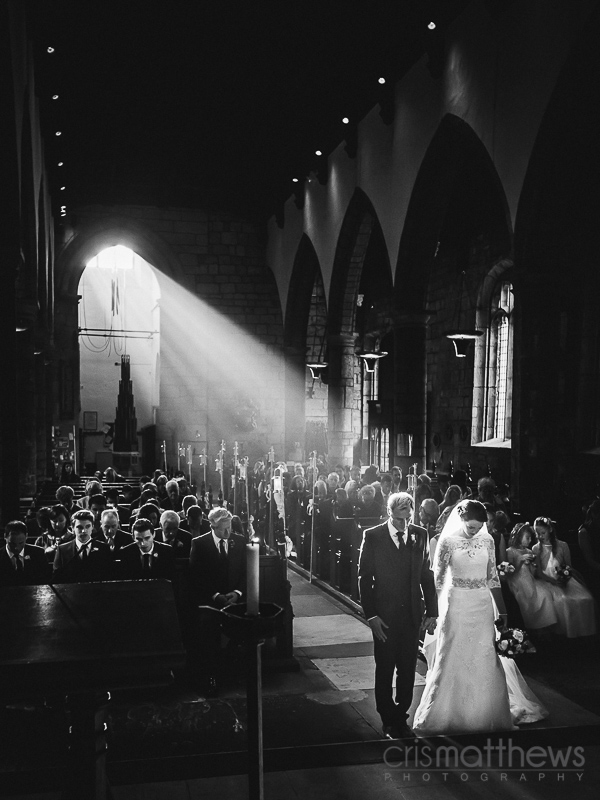 I don't actually call myself a Documentary Wedding Photographer, as I do pose people in small sections of a wedding. But if I think about it the term Documentary Wedding Photographer is probably how I'd like to think of my approach. I try to be relaxed, unobtrusive as much as possible and capture things as they happen.