Sometimes as a Photographer you are asked to, how do I put this, improve on reality. Sometimes you just want to create the image in the camera that gives the viewer a better sense of what is really there. Recently we photographed Caroline & Anthony's Wedding at the magnificent Crewe Hall. I always like to take an external shot of the venue at night and I had been looking forward to taking this one for a while. I am putting the finishing touches to the pictures and thought I would share a little insight into how an image is created.
Crewe Hall is an impressive place to photograph, both the interior and exterior are striking. Caroline & Anthony had carefully picked this venue and I wanted to make sure that the picture did it justice. The front and the approach is impressive…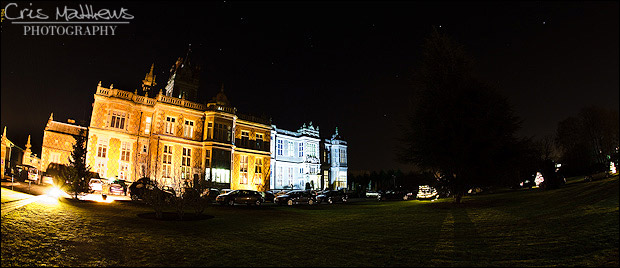 …but it feels a little busy in the picture with the different lighting and the cars. The rear of the building is even more impressive, but there is a little problem…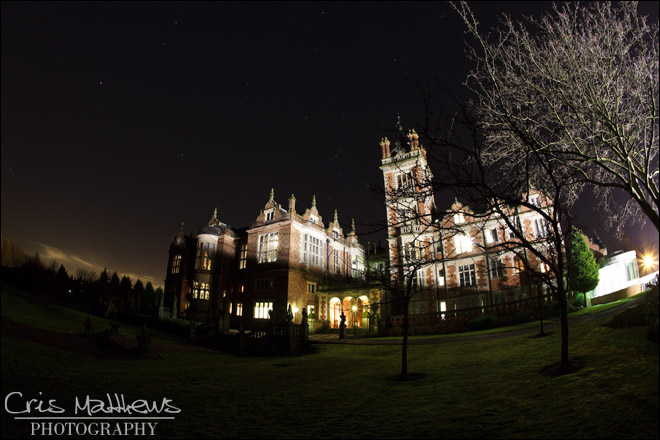 …It's not lit!. There is light spilling onto the top half of the building from the adjacent complex but it's hardly a flattering light. This is also the side where the room where the reception was going on, and I always like to include that if I can. So what is a Photographer to do ???
This is the point at which you have to go digging around in your creative mind and come up with something you've never tried before. After being stood there for a couple of minutes I came to the conclusion this shot was too good to miss and I would just have to light the entire rear of the building somehow. I picked my vantage point, I liked the trees silhouetted against the building giving it a nice wintery feeling.  I did give some thought to using my flash guns, but they would give a very cold light and would be difficult to control, so I decided to give my trusty old 12v Video Light a go.
Using a very long exposure I was able to almost paint the light on the building. The light itself is very simple, it's a 100w 12v car headlamp with a nice lens on the front and a set of barn doors to prevent any flare. It's powered by a small battery (like a very small car battery) and is hand held so is totally portable, perfect for being creative with. I think it's a quick, easy and effective method to create a shot that you know is there but the camera just needs a little help to create. Judge the results for yourself…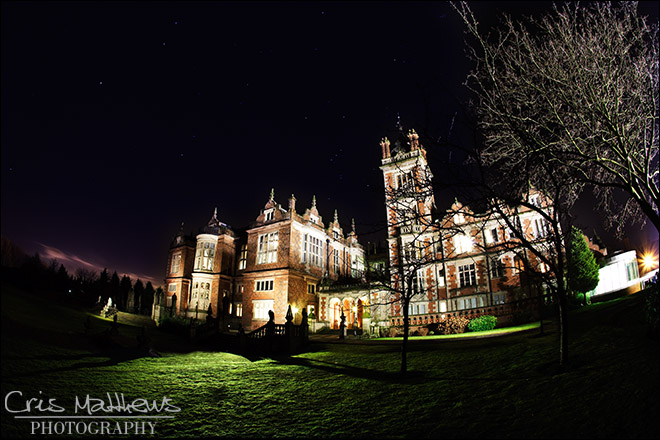 This is what I really love about Photography, there is always something new to try. In total we spent 20 minutes outside and created some really unique images. I think this is going to look amazing in the Album. Magic!
Thanks for reading, let me know what you think in the comments section below 🙂