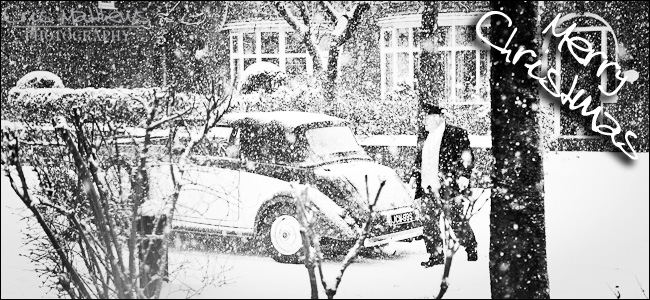 On Sunday we photographed Kate & Mark's Wedding, they couldn't have wished for a more wintery wedding. The photograph above gives you an idea to the volume of snow that fell throughout the whole morning and continued during the ceremony. It didn't hamper the day in any way, everything ran to plan and everyone had a fantastic time. Expect more pics soon 🙂
Now seems an appropriate time to wish all my clients, friends, family, lurkers and stalkers (you know who you are 🙂 ) all the very best in the coming season and thank you for making the past year a fantastic one for me. Thank you to the growing number of people following this blog, from small acorns mighty oaks grow and all that! After only a couple of months we are already in triple figures of people coming back on a regular basis. Thank you for all you contributions and seasons greetings.
It's been a fantastic Christmas season so far, and it feels more like it was when I was a kid than ever. Now where did I put that old sledge….