In this age of digital imagry physically printing your wedding images may seem to be somewhat old fashioned, but  Wedding Albums buck the trend and are something most of my couples seek out and want to see when choosing a Wedding Photographer. Many go on to order an album with me once they have their images.
Viewing images on a laptop is ok, but a back-lit screen is never going to show the images as I intend them to be seen. All prints are not created equally either, sure you can get prints made for under 10p these days, but these prints won't have had careful attention to detail to get the most from the image, which is why I pride myself on the printed products I offer.
I offer albums and prints made right here in Yorkshire by a great company called Folio. It's a difficult choice putting all your eggs in one basket, but when you know something is right it's just right! When ever I get an album back from them I take a good look through it and I am always impressed by the quality, the fine art prints always look exactly how I want them to and I am yet to find prints that are more impressive.
I felt very lucky to be invited recently to make a short video called "Handmade" about Folio and the craft that goes into each and every album, you can currently see that video on the front page of their site, or just watch it below…
Here is a look behind the scenes of the video production…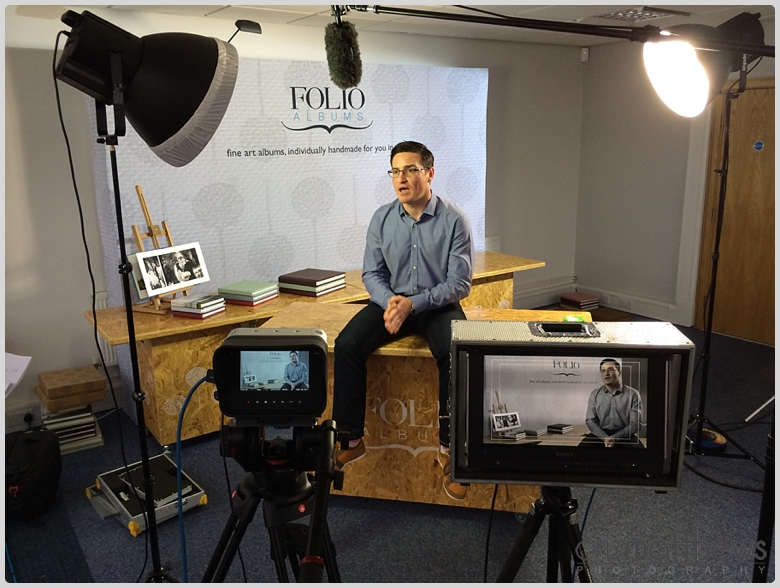 As you can see Stewart is very passionate about his product, as are all the chaps (and chapettes) at Folio. This passion for their product flows down to every detail, I found the attention shown to the prints to be incredible, the leather work to be impressive and the overall care the team show for their clients albums to be inspirational. Those that know me well will know that is not praise given easily.
I am proud to be using a world class product sourced locally, it makes both economic and environmental sense to seek out such suppliers. I am proud to offer Folio Albums to my clients, they are the very best way to preserve your images for generations to come.
Here are a few shots I took of the team…